 NAFPLIO has Greece's most beautiful old town
Get a little better acquainted with Nafplio's Old Town.
Discover all the must-sees, walks, and other great adventures you can look forward to. We also give
you our best tips about the best places to eat, drink and sleep. SYNTAGMA SQUARE is Nafplio's heart. Here the Nafpliots sit with a coffee in the morning, or the children play in the soft evenings, while... Click here to read more!
THE THREE ADMIRALS' SQUARE gets its name from the three admirals who fought (and won) on the Greek side in... Click here to read more!
THE VIVID HEART OF NAFPLIO
THE GREAT ROAD, the Nafpliots still calls it, although it's long ago named Vas. Konstantinos. This is the main artery through Old Town Nafplio... Click here to read more!
A WALK IN THE GREATEST ROAD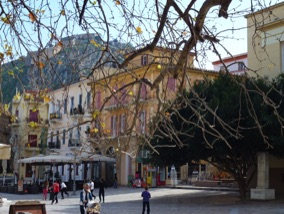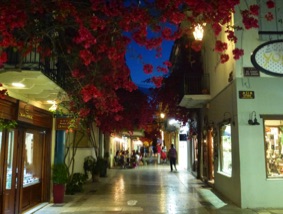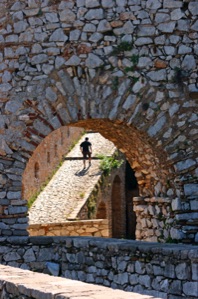 THE PALACE FLOATING OVER THE CITY
PALAMIDI is the fortress that dominates the city, in the sense that it almost floats on a steep hill (216 m) over Nafplio. Between 1711 AND 1714... Click here to read more! BOURTZI: The Venetians built the small fortress Bourtzi, located in the Argolic gulf  and close to Nafplio, in 1471. Bourtzi was originally... Click here to read more!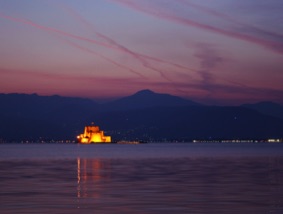 FORTRESS AND EXECUTIONERS HOME AKRONAFPLIA: Nafplio's oldest castle, Acronafplía, rises at the top of the old town. Once the whole city existed within these walls. Parts of the castle was... Click here to read more!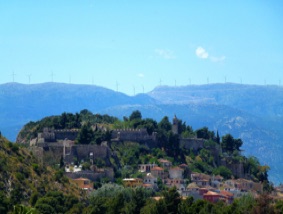 VISIT A MUSEUM!
Whether you are interested in archeology or folk costumes, kombolois or ouzo, you'll find at least one museum to visit in Nafplio.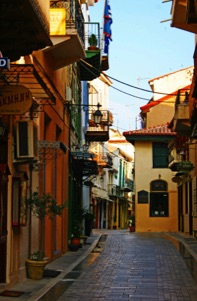 FINE BUILDINGS: Vouleftikon, or Parliament, is the big, gray stone building pictured above, off Syntagma Square to the south. The Turks built it in 1730 as a... Click here to read more!
A PARLIAMENT, A RECIDENCE,
A MOSQUE...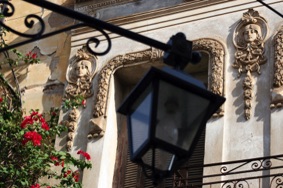 NARROW ALLEYWAYS AND STEEP STAIRS
WALK THE OLD STREETS
Psaromachalas is the name of a small corner of the old town, just below Nafplia Palace Hotel, but outside Acronafplia Castle. This small area was the first place people...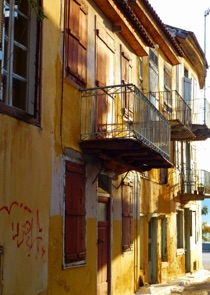 THE TOWN PARK is divided in two by Megalos Dromos  (Vas. Konstantinou Street), with Kolokotronis Park on one side and Railway Park on the other... Click here to read more!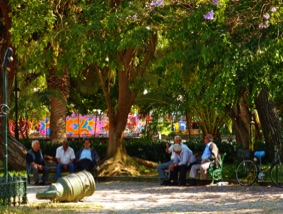 THE GREENEST PLACE IN NAFPLIO AKRONAFPLIA-WALK AND MORE
Sundays the Greeks venture out for a volta, in other words, they will go for walk. The walk is to be taken in a leisurely pace, often in more or less urban environments, and...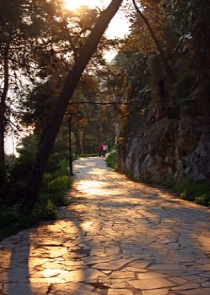 MORE FINE BUILDINGS:
One of Nafplio's churches has an historically significant bullethole, an other has the throne of King Otto...
SEVEN CHURCHES AND SOME HISTORY