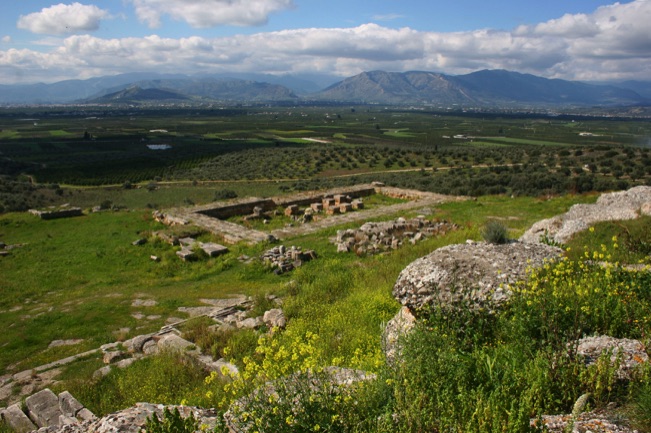 IREON
Hera (Ira) was both wife and sister of chief god Zeus, and thus enjoyed a high status in Greek mythology. As the goddess of, among other things, women, births and marriages, keeping her happy and satisfied was important. Many temples were erected in her honor in ancient times, including one just south of Mycenae. Ireon (written also Heraion) or Argive Ireon may not be the first excavation you're visiting in Argolis, but it's an immensely peaceful place, with stunning views of The Argolic plain all the way down to Nafplio and Argos. Also, this is a perfect place for a picnic or just a little relaxation amongst the old columns.
The drawing to the right shows how Ireon probably looked like around 2500 years ago. The main temple, erected in honor of the goddess, had two floors, and six times twelve rows of columns. Some of the walls, plateaus and small columns remain today.
But Ireon was already in Mycenaean times (1600 -1100 f.v.t.) a place where people worshiped the goddess, and Agamemnon was chosen to lead the war against Troy here. The main temple is the oldest Ireon in Greece, and it's not bad!
Entrance: Free (2016).
I honor of Hera, women and marriage