LOUTRAKI
Loutraki is a seaside resort with a casino, a combination you can love or hate. A lot of tourists come here, both Greek and foreign, and the city is well prepared for this. A long waterfront promenade dominates the city; with hotels, taverns and bars on one side and a long gravel beach on the other. The photo to the left is taken a very rainy day in March, in the summer the beach is quite crowded.
The Casino is one of the biggest in Europe, but the city originally attracted visitors because of its health-giving freshwater spring. And you can still swim in this water at the city's spa. You can also drink the water without going to Loutraki, because this water is sold in bottles all over Greece. The water is of course labelled Loutraki, which is a derivative of a Greek word for source or spring. Last, but not least, this famous water also flows freely in a park in the north of the city.
Not far from Loutraki is the beautiful Lake Vouliagmeni (pictured top), perfect for a picnic, a swim or a tavern meal. Nearby is also a temple site dedicated to the goddess Hera (photo right), Heraion of Perachora, an important cult centre in ancient times. The site is beautifully located, in a hill that rolls gently down to the Gulf of Corinth.
You can read more about Hera here, where we write about the Hera Temple of Argolis.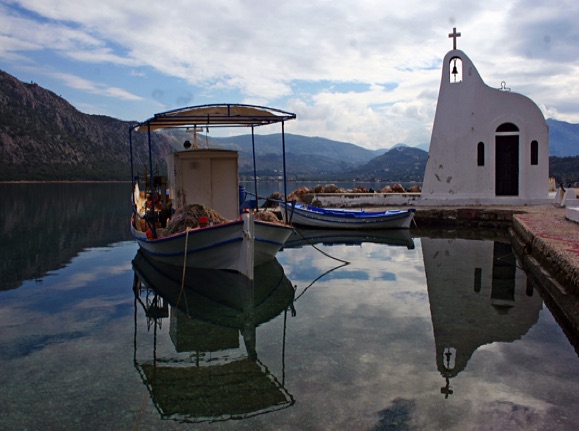 A seaside resort, a temple by the sea

Loutraki is located 68 km north of Nafplio.